20 years in Amateur Radio - Special Event K4J
PUERTO RICO, KP4 -
To celebrate his 20 years in Amateur Radio on Digital modes (and his birthday)

Jose Rivera Salaman - KP4JRS

will be on the air with the Special Event Call

K4J

from March 14th to the 29th, mostly on RTTY and PSK31.

Jose has been very active chasing DX as well in Amateur Radio contests on RTTY, receiving certificates and awards for his participation on them, and for specializing on the 30 meter band, for which he also has received awards for operating in what is now his favorite band.

At the same time, his father, Jose Sr. - KP4JFR, and his sister Vilmarie - NP3YL, have also entered on Digital modes, many times being the only ones who appear in the lists of participation, and winning RTTY contests in Puerto Rico, something that has turned into a "family matter".

K4J will be on the air on various bands operating on RTTY and PSK31, and if in Puerto Rico, you would like to contact Jose, he will be during the evenings on 147.480Mhz, where he communicates with his family and amateur radio friends.

An electronic Certificate can be obtained via
k4j.certificate@gmail.com
and http://k4j.kp4jrs.com
Evento Especial K4J
Con motivo de estar celebrando 20 años en la Radioafición en los modos Digitales (y a la vez su cumpleaños) el amigo José Rivera Salamán - KP4JRS, estará en el aire con los indicativos de Evento Especial (Special Event) K4J del 14 al 29 de Marzo, mayormente en los modos de RTTY y PSK31.
José ha estado bien activo tanto en contactos en la caceria de DX, como en los concursos en el modo de Radio Teletipo (RTTY) obteniendo reconocimientos y certificados por su participación en los mismos, y de especializarse en la banda de 30 metros, donde ha obtenido certificados/premios por operar en lo que ahora es su banda favorita. Igualmente su papá, José Sr. - KP4JFR y hermana Vilmarie - NP3YL han entrado en esa faceta de modos digitales, muchas veces siendo ellos los que salen en las listas de participantes, y a veces ganando en los concursos de RTTY, que se ha convertido en un "asunto familiar"
K4J estará en el aire en varias frecuencias operando RTTY y PSK31, y si desean contactarlo localmente, el estará durante las noches en la frecuencia de 147.480 Mhz, donde se comunica con su familia y amigos radioaficionados. Un Certificado especial se puede obtener formato electrónico via k4j.certificate@gmail.com
Operating Frequencies
TBD
Online log
Note: Log will be updated frequently during the special event.
K4J

JOSE A RIVERA-SALAMAN
CALLE 2 F12 VILLAS DEL SOL
TRUJILLO ALTO PR 00976-4744
PUERTO RICO
** Request the Certificate online sending an email to k4j.certificate@gmail.com
** We will check the log to see if you worked us, then will send the electronic Certificate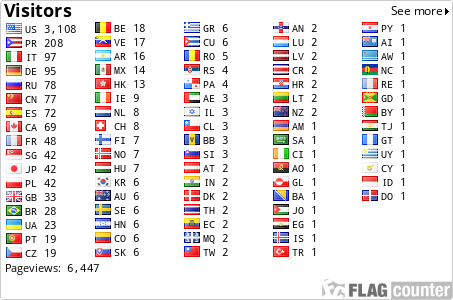 March 13, 2011 03:44 PM
© 2011 KP4JRS.COM